Home
Welcome to Teen Bible Challenge Inc.
JUMP!
It's that time again – its time for our 2014 Jump Tournament. Whether you competed this year or not, you're invited to join us this year for our tournament! For more information, click here.
VOLUNTEERS NEEDED
If you would like to volunteer for this season, please email Jessie Hughey at jessie@teenbiblechallenge.org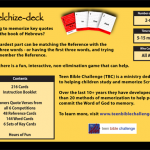 NEW GAME & MEMORIZATION TECHNIQUE
Melchize-deck! a new card game from TBC. It was built to be a fun and interactive way to match your References with the First-Three-Words of the verse. Check it out here. Copies of this card game can be purchased for $20/each. Contact TBC staff to purchase.
ONLINE GIVING NOW AVAILABLE, select the 'donate' key below:

Request a Login for the Website  
Subscribe to our TBC Email List

You may also mail any donation to our PO Box:
     Teen Bible Challenge, Inc.
      PO Box 6124
      Grand Rapids, MI 49516
Teen Bible Challenge, Inc is a 501(c)(3) organization. Your gifts are tax-deductible.